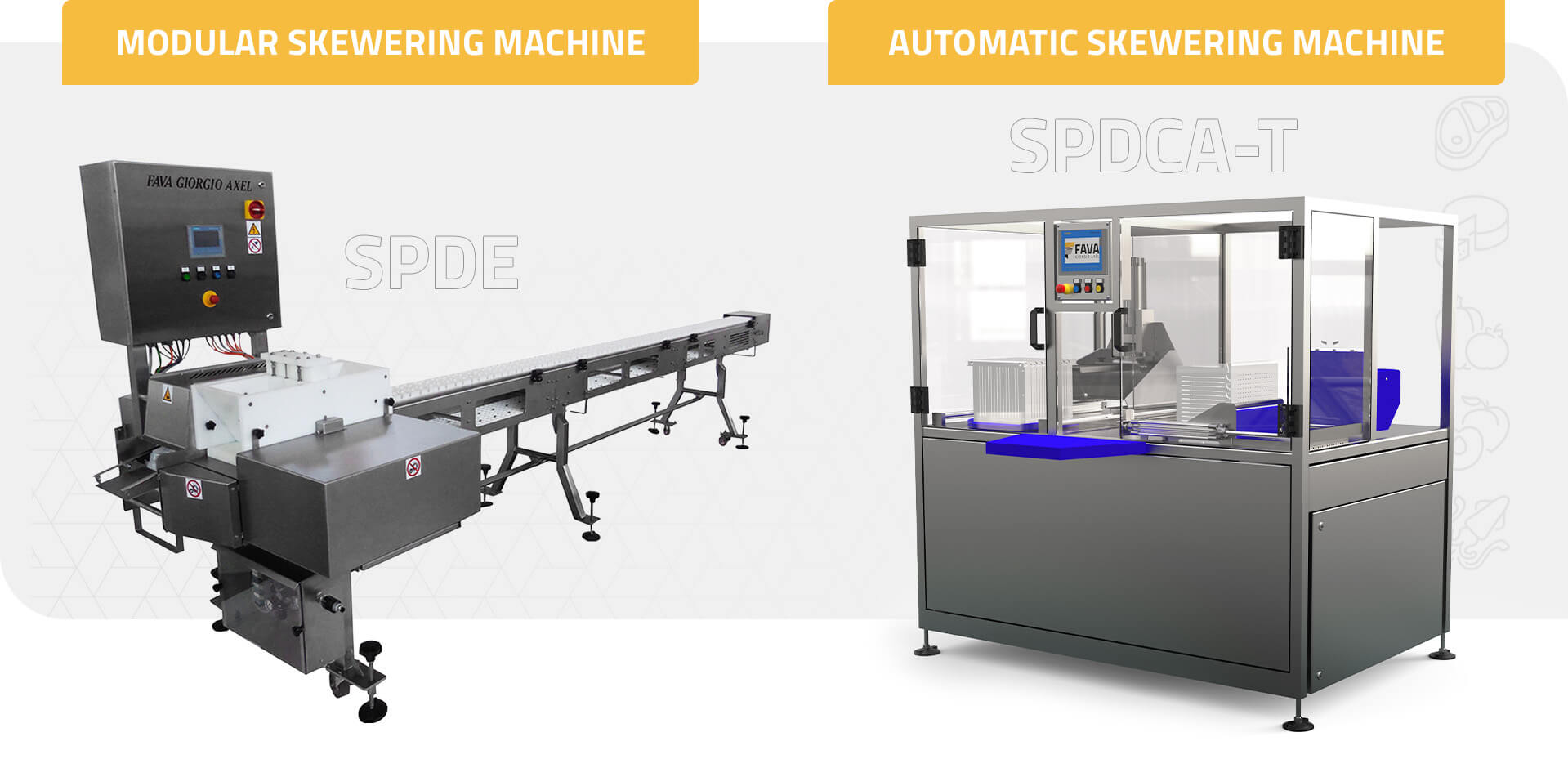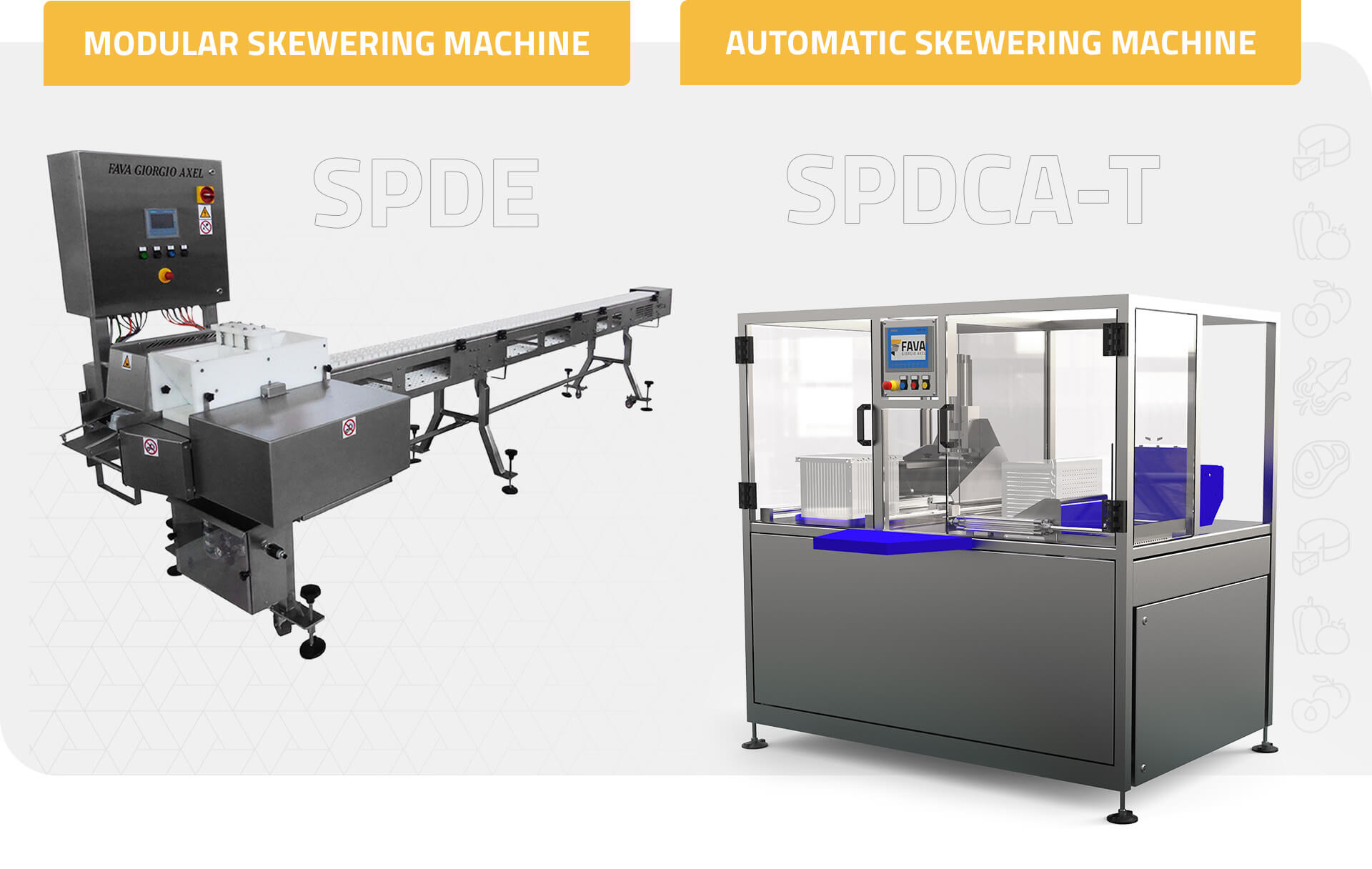 Modular kebab skewering machine
Low cost
Totally safe and easy to wash and sanitize
Modular: machine productivity grows with your needs
Productivity from 1000 to 7200 skewers per hour
Significant reduction in labor costs and work injures
Wooden skewers customizable length and diameter
Special model for paddle skewers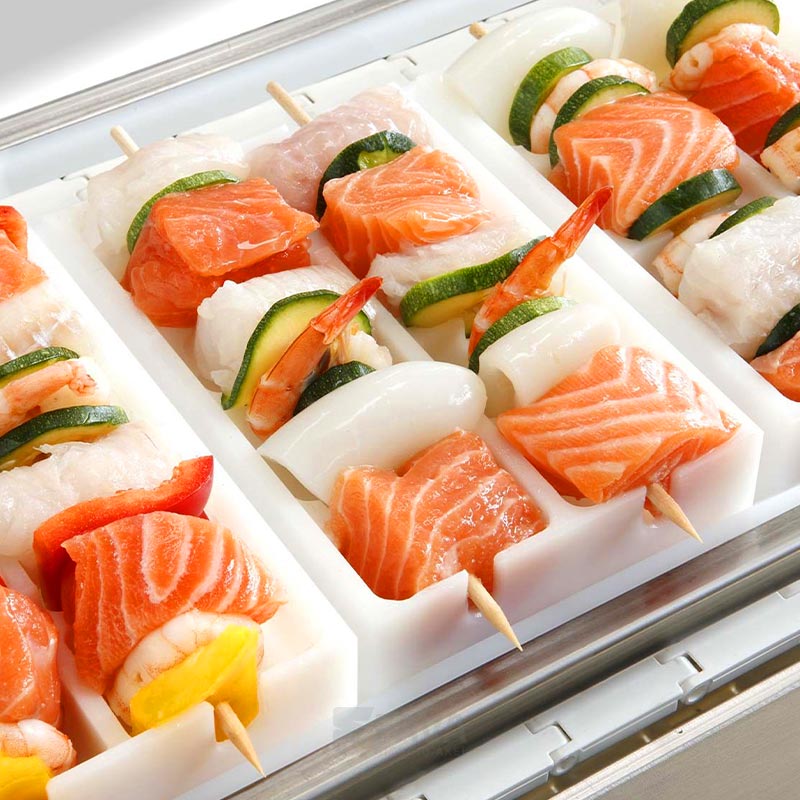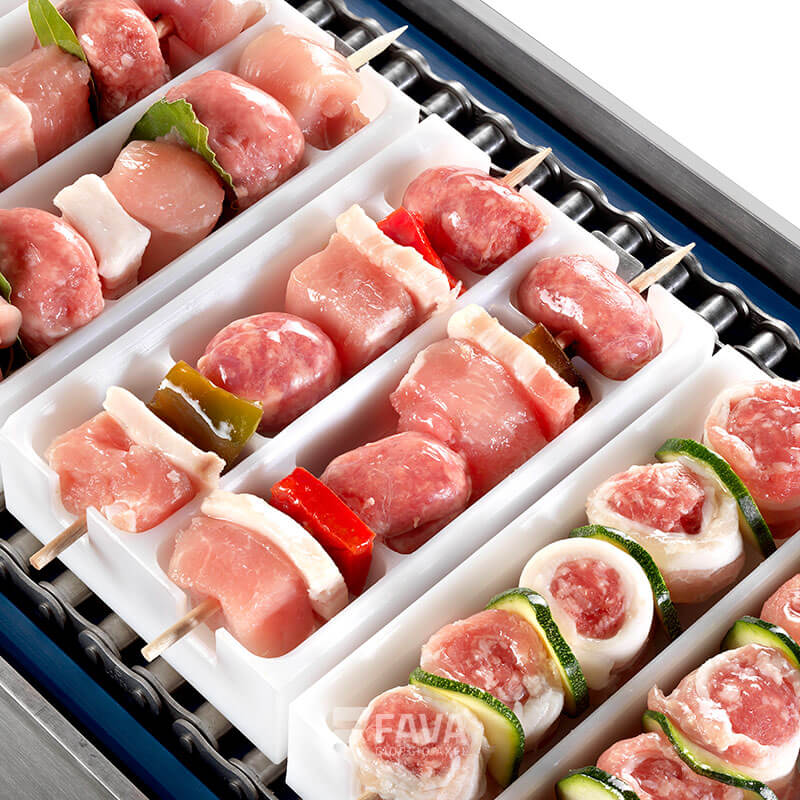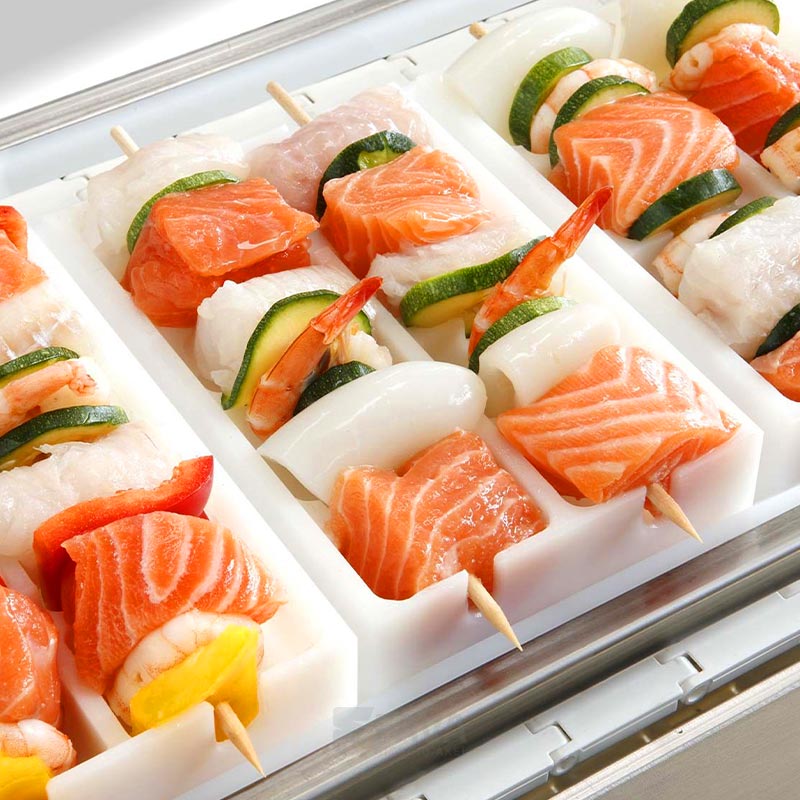 With or without skewer's tip protrusion from the product
Molds made on customers' needs
Quick and easy changeover and sanitization
Made of stainless steel and plastic material suitable for food contact
Pre-piercing head for products that are either hard or cooled to a few degrees below zero
Touch screen panel
PLC for storing operating parameters
Connectable with MES
Connectable for remote technical assistance service
Low maintenance costs
Automatic skewering machine
The SPDCA-T Automatic Skewering and Cutting Unit is the perfect machine for producing regular section skewers of multiple sizes. The machine is extremely compact and easy to wash and sanitize.
Sticks with a diameter of 3 mm and length of 250 mm can be used. The molds suitable for the machine can have two different thicknesses, 110 mm and/or 160 mm, depending on the characteristics of the machine. The tip of the stick has a protrusion from the product of about 20 mm. The SPDCA-T automatic skewering and cutting unit consists of the stick insertion section and the cutting section.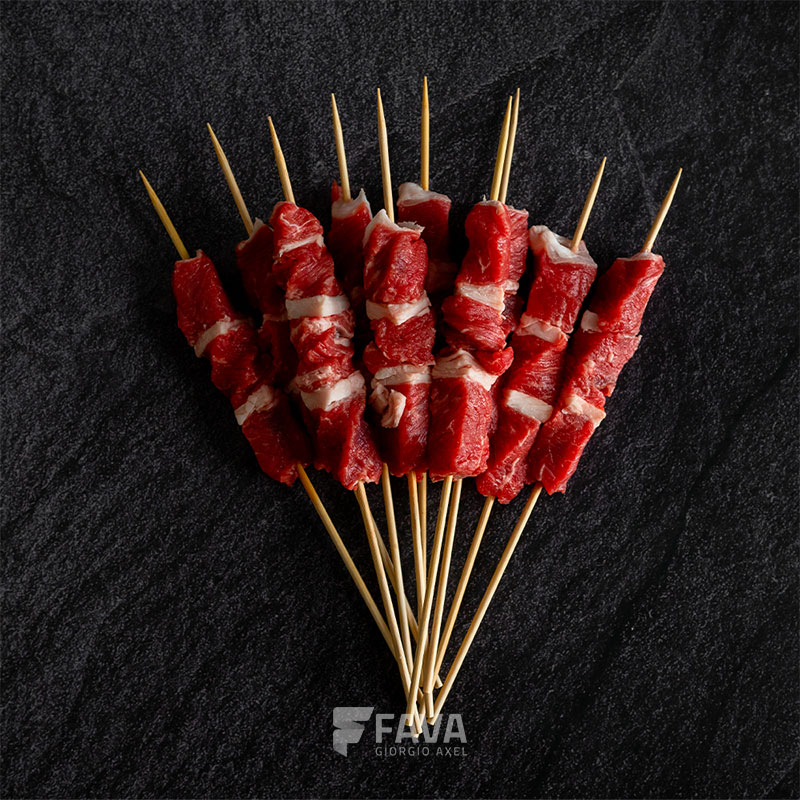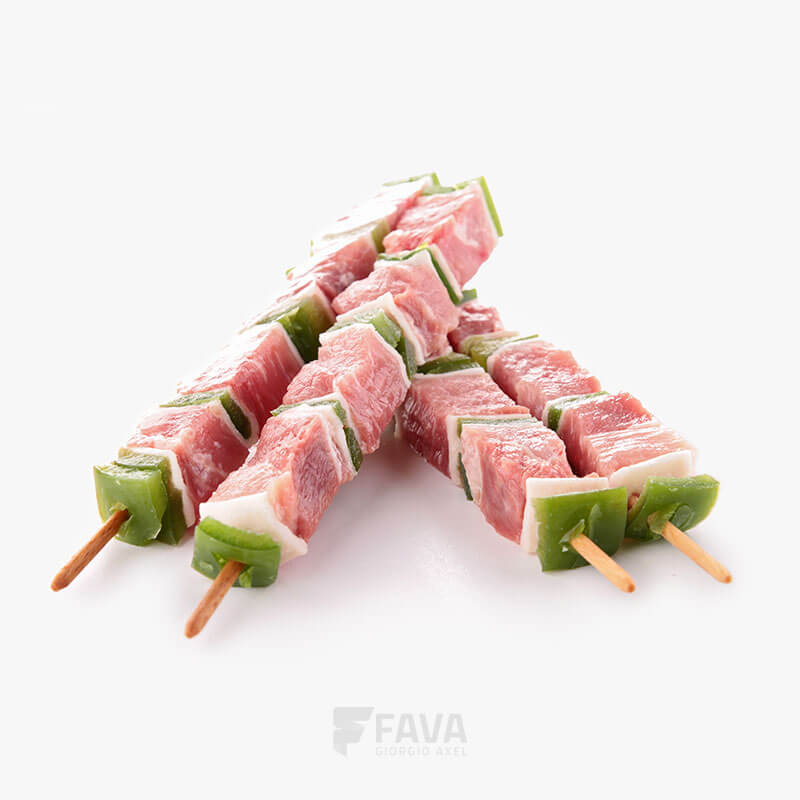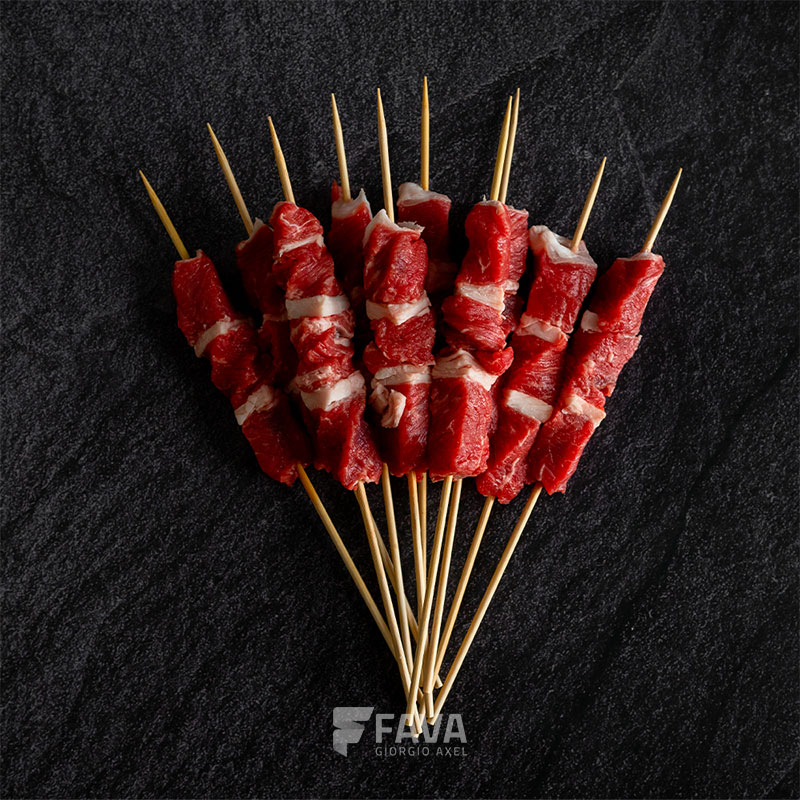 The productivity of the machine is 15-18 molds/h for products with a cross section of 15 mm x 15 mm and will be higher for products with a larger cross section, thus with fewer skewers.
The operation is electropneumatic, and an operator panel allows easy working management of the machine. The mold, made of food-grade plastic material and stainless steel, includes 4 walls rigidly attached to each other, with slits for the passage of the cutting blades, a lid and a movable bottom sliding between the walls, both perforated for the passage of the sticks, preferably made of birch.
The particularly compact machine structure is made of stainless steel, with polycarbonate doors controlled by safety sensors or with immaterial safety barriers. The machine is CE marked and equipped with an operating and maintenance manual. Following is a table with indicative features and weights, with and without sticks.